Fitzgerald Italy Vacation
Use the slideshow controls on the right to page through the pictures. Click the picture to get a larger view.
---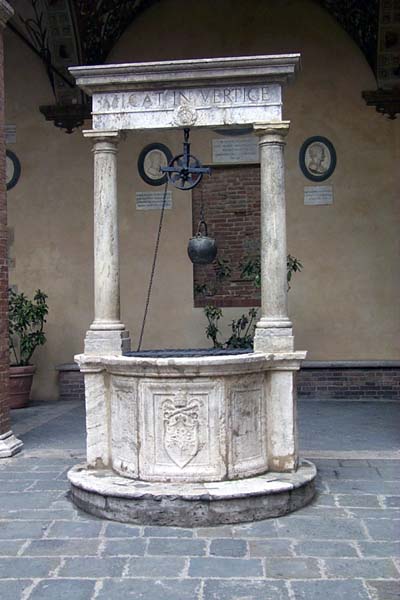 ---
Thursday, April 17, 2003
1:46 AM
Phew! We made it back home to Atlanta. I'll post more tomorrow, but for now... Zzzzzzz...
---
Monday, April 14, 2003
4:48 PM
Hello from Venice, our favorite town so far!

A couple days ago we took a day trip to Sienna, which was very nice after the hustle-and-bustle of big-city Florence. The town and the squares were very quaint. Besides the nice surroundings we visited an old church that was nice but pretty plain compared to others, since inside most of the frescoes had flaked off. Except for the severed head, it was pretty boring. Yes, the church had the head of patron saint Catherine nicely displayed in a church alcove. Unfortunately I was not allowed to take a photo, but she looked something like this:

:-|

That is as good as I can do on this keyboard, sorry. But actually it's pretty close.

Sienna was a bit tougher because of all the hills and stairs, so Pat was a little tired at the end of the day (because he had to haul pregnant Kirsten up the hills). We slept well that night back in Florence, despite the two nuns that almost ran Kirsten over in their tiny Italian car.

The next day we said Ciao to Florence, and made our way back to the train station. Darn it all, there were only First Class tickets left, so we had to travel in slightly better style. We ended up sitting across from a couple from Seattle, so we had plenty to talk about during the three-hour trip. It turned out that they were following the same guidebook as us, and were even staying in our hotel!

When we got to Venice, we jumped on the slow vaporretto (basically the bus boat) and toured the Grand Canal - good entertainment for only 3 euros each. Once we got to our stop, it took us a while to get used to the street scene - it's like a maze of streets and canals. After backtracking a few times we finally made it to our hotel - oh no, no elevator! Luckily we're on the first floor. We did some sightseeing and got lost (Pat is now in charge of the map), then met with Bill and Deanna (the Seattle couple) for dinner. Pat had a grilled fish (yum, head, bones and all) while Kirsten stuck with eggplant parmesan. Pat continues to guzzle wine, even though he never drank much of it before our trip.

The next morning we went to the local square and noticed people leaving church with their Palm Sunday branches. There was a lot of traffic heading toward St. Mark's square, so we followed and managed to bump into the Palm Sunday processional going into the basilica, which was an impressive display. We took a vapporetto to the Gregorian church and joined them for their Palm Sunday service (but it was pretty plain). We hit some other sights including the Murano glass factories, etc.

Venice is our favorite so far! Off to Milan tomorrow, then back home!

- Pat and Kirsten
---
Thursday, April 10, 2003
5:00 PM
Hello from Florence, where it's raining!

Luckily Kirsten knew it would be raining, so we scheduled some indoor activities. In the morning we visited the Uffizzi, which houses a ton of statues and paintings (the most famous of which is the Birth of Venus). This afternoon we visited the Academia and saw the statue of David (I had no idea it was so huge!)

Getting our tickets from Pisa to Florence seemed to be a lot easier, and when we arrived we rolled our luggage through town to try and find our hotel. Since it was near the Duomo (largest church, visible from many places) we didn't think we would have any problems. We got on what we thought was the right street, then looked at our map, but were at a loss to where it was. Then we turned around and realized we had already found it! We took the elevator up to the third floor (elevators here are tiny, barely room for two people plus suitcases) and found another nice hotel (maybe not quite as nice as Pisa). The staff is helpful, and even booked our reservations for the museums today (you need a reservation unless you plan on waiting in line for a couple hours).

After our arrival we walked around the city to get our bearings and take some pictures, then grabbed a bite to eat and Pat nearly sucked a piece of lettuce into his lung. This has not been a good food experience for Pat so far - a couple nights later he nearly choked on some Procuiutto. But he plans to slow down and chew this good Italian food before swallowing, from now on.

Yesterday we took a walking tour of old Florence. Our guide was very good and we learned a lot about the city - for example, at one point the ruler of Florence decided that he wanted to have the tallest tower in the land, so he ordered everyone else to chop their towers to a height below his. The guide recommended a "locals" restaurant and we checked it out that night, but there was a line, and Kirsten felt it was "a little too local". So instead we treked way across town to another "local" restaurant that was recommended by our guide book. Luckily there was no wait. When we walked in, we saw a couple tables with a copy of the same guidebook! It turned out that almost everyone in the place was a tourist! But the food was good, and we got to talk to some fellow travellers. We sat next to a nice British couple and had a very good time. Pat was even able to order in Italian for the most part, and even ask for a couple extra cups for our bottled water.

Tomorrow we're taking a day-trip to Sienna, then the next day we leave Florence for Venice.

-Pat & Kirsten
---
Tuesday, April 08, 2003
9:48 AM
Planes, trains, and automobiles. Phew! We finally made it to Pisa!

The Magnifica class flight on Alitalia was just that. The seats were huge - a Rockette could kick her legs and not reach the seat in front of her. We sat down and they immediately started handing us schwag - little booties so we could kick off our shoes and keep our feet warm, eye covers and ear plugs so we could sleep, even a toothbrush for after our meal. And what a meal - it was five courses, and by the time it was over we were in a food coma and ready to sleep out the rest of the 6-plus hour trip. The electric reclining seats gave us a good rest.

Off the plane, our adventure began. Kirsten"s (forgive the quotes, I can"t find a single quote on this keyboard) guide book gave us the location of the ATM where we could get some Euros, then we hopped on a bus to go to the central train station. Traffic was interesting - pretty aggressive drivers, lots of little cars and wagons, and not many SUVs like in the US.

Frozen Bologna

When we reached the central train station in Milan, we made the mistake of going inside before we got our tickets. The place is HUGE. After wandering around, we went back outside and asked a bus driver where was the best place to get tickets, and finally got tix to Pisa, via Florence. It was a long train ride, and we were starting to get tired. It was getting a bit colder than the forcast led us to believe, and it actually started to snow in Bologna.

In Pisa we grabbed a taxi to our hotel - very nice place, with a view of the leaning tower (if you lean out the window so you almost fall out). The sights are just around the corner, so we ventured out to take some pictures and tour the cathedral. It was cold, and people here don"t eat until after 8pm, so we took a nap before heading out to a small restaurant that was mostly full of locals. We did our best to communicate in our broken Italian, and managed to get a good meal.

Today we leave for Florence, and hopefully we"ll find another Internet terminal there.

-pat
---
Sunday, April 06, 2003
9:01 PM
Liquored up! I can't get liquored up. Not fair. I'm still worried about the cat, but I've been assured he'll be fine. It'll be a long ten days for the animals (and Glenn - the caretaker of the menagerie). Well, we have a long long day still ahead of us so I think I'll go see if I can catch a nap.

-kirsten
8:54 PM
Checking in from lovely Newark, NJ, in the Virgin Atlanta clubhouse - one of the benefits of our business class tickets. We're stuck here for four hours until we leave for Milan, but at least we get to wait it out in luxury. I'm off to get liquored up.

-pat
5:41 AM
It's the night before the trip, and we're almost finished packing. Kirsten thought she heard some cats fighting outside, and sure enough Gerry comes limping into the house. He has some minor injuries, so we have to run by the 24-hour vet to get him cleaned up and get some antibiotics. I don't see how having a child can be any more trouble than these animals lately (but I'm sure I'll be enlightened soon enough). While we're away Kirsten's brother Glenn is looking over the menagerie, we'll see if he can force some pills down Gerry's throat.

-pat
1:41 AM
Welcome to our Italy Vacation Weblog! We're in Atlanta right now, but we'll be posting to this web log at Internet cafes in Italy. We'll be flying into Milan, then traveling to Pisa, Florence, and Venice. Stay tuned for updates, and (eventually) pictures. Arrivederci!

Note: dates and times are for Italy (which is Eastern time plus six hours).

-pat
---