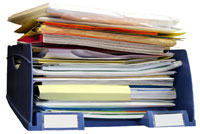 I like to keep my resume active on various jobs sites (Monster, Dice, ComputerJobs) even when I'm not actively searching for a job. The disadvantage is receiving unwanted contacts from recruiters. Even though I specify full-time positions in Atlanta, I keep getting request for contract work. For example, I got a request for a contract writing position in Minnesota.
Rather than deleting these requests, I reply with the following:
RecruiterName:
Can you notify me where you received my resume? I need to update the site to specify I am looking for full time positions only, and only in Atlanta.
This seems like a constructive way to deal with the problem, while still letting me get in a dig at any recruiters who ignored those restrictions on the job sites.
Update: then when I got home I had a voice mail from a recruiter for a six-month contract. The recruiter specifically said that he found me on Dice, where my profile specifically says I am not interested in contract positions. Gah!