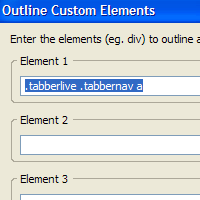 "You don't need to be helped any longer. You've always had the power to go back to Kansas." — Glinda, the Good Witch of the North
When I saw Pawel Knapik's
bookmarklet to test CSS selectors, I thought it was a great idea – now I can enter any CSS selector and it will be outlined on the page.
Why isn't this feature in Chris Pederick's web developer extension? I jotted off an email to Chris – and got a reply in just a few minutes, informing me that it was already there!
I knew that I could outline a custom HTML element (as it says: "eg. div"), but it turns out you can enter any CSS selector. Oh joy!
So thanks again to Chris, the Good Web Developer of the West!