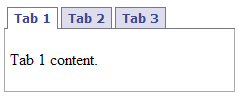 I just released a new version of my JavaScript tab interface software. It has some new features that make it crazy-easy to use, plus I eliminated a memory leak in the IE browser (damn you Microsoft!).
New Features
You can set the tabberOptions global variable before you include tabber.js to change any of the tabber settings.
You no longer have to specify a title for each tab – it automatically finds heading elements in the body of the tab. Of course you can still specify a title if you don't have headings or to override the title of the tab. And if you don't do either it automatically numbers the tabs. See also tabberOptions.titleElements and tabberOptions.titleElementsStripHTML.
Removes the title attribute from the tab so it does not appear as a tooltip when you mouseover the body of the tab. See also tabberOptions.removeTitle.
You can prevent tabber from running automatically in the onload event. See tabberOptions.manualStartup.
Fixed a small memory leak that appeared in the IE web browser.