The last couple months have been extremely busy – here are some of the projects I have been working on at WebMD:
Site redesign
The whole site has been given a new look. One of my contributions was a DHTML slideshow prominently featured on the home page: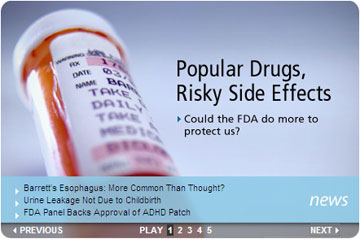 This was a complete custom rewrite using many of the same techniques as my ever-popular BarelyFitz JavaScript slideshow.
Blogging comes to WebMD
My buddy Jeff (director of user experience at WebMD and principal of Interaction Society as well as various podcasting shows) was behind the "doctor blog" project. They now have 15 doctors blogging on various topics: it will be great to have such personal viewpoints available on the web. I created the HTML and CSS templates for these blogs, plus added some dynamic WebMD news feeds using RSS and JavaScript.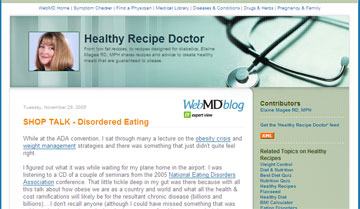 Video!
And finally, to earn my title "Development Manager, New Media and Syndication", we need some new media! So we launched the WebMD daily video. It took a great team of people to pull this off, and the ongoing challenge of a daily video is tremendous!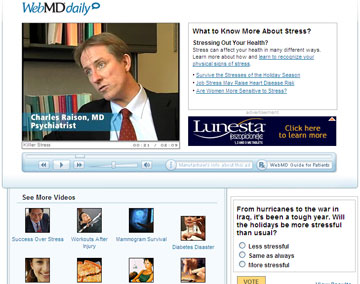 So… that's what I've been up to, how about you?